Back in July of 2017, I picked up a brand new Ford Focus Electric. This was the second brand new vehicle I ever bought – every other car had been used. There were some issues which reminded me why I don't purchase brand new cars…but that's a well-documented story and not what this post is about.
We've had the car for about a year and have been getting between 100 and 124 miles per charge just driving around town running errands. Armed with this data we thought it would be a fun idea to take the Focus EV out on a trip to Modesto, California and back (about 525 miles each way).
Our plan was simple, make our way out to Turlock, California over the weekend, do a customer site visit, and make our way back by Tuesday afternoon. It turns out that simple things, even well-planned, can lead to great adventures.
Our route was easy enough. We would start from the house with a full charge, hit the new EVGo Station in Baker, then the station at the Mall of Victorville, the free charger at the Honda dealership in Lancaster, then to the Walmart station in Bakersfield, overnight at the Holiday Inn in off the 99 with the fast charger, and finally to Turlock for our meeting the head home hitting different chargers along the route with an overnight to be determined along the way.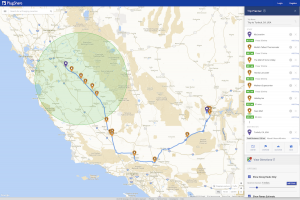 From Vegas to the World's Tallest Thermometer was easy. We hit the Alien Fresh Jerky place and the Mad Greek while the car charged then made our way to Victorville.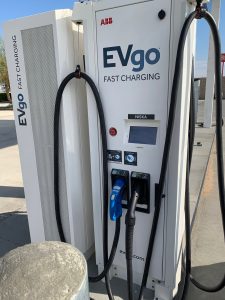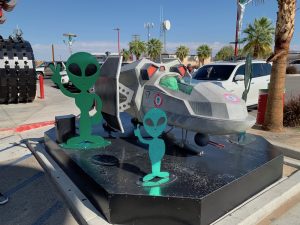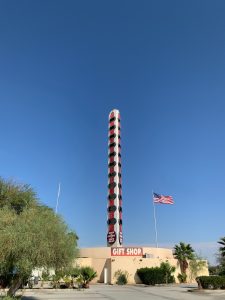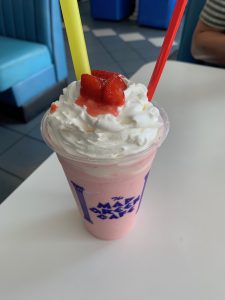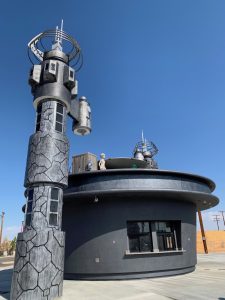 Here is where our first issue came arose. We fought a massive headwind while going uphill the entire way, which depleted the battery around Barstow. This wasn't a huge problem as there was a standard charger at the Mall of Barstow so we plugged in, had a picnic lunch then hit the Starbucks for coffee.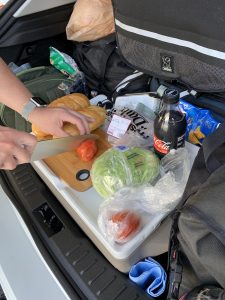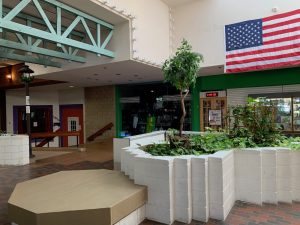 Next was the Mall of Victorville follow by the free charge at the Honda dealership where, while waiting for the car to charge, we ended up visiting the 'Bark in the Park' going on and seeing lots of people and their dogs. After charging we headed up to Tehachapi for dinner (and a quick Level 2 Top Off) before making our way down the mountain to the Walmart in Bakersfield.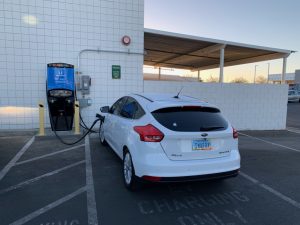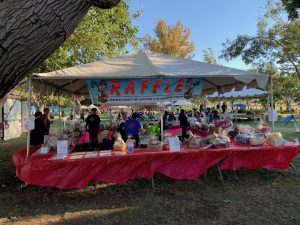 From there it was easy sailing to the Holiday Inn for our overnight. In the morning we discovered that the hotel had a lovely little train that did a 20 minute loop. Of course we took a ride.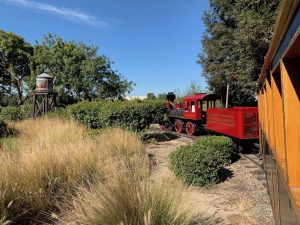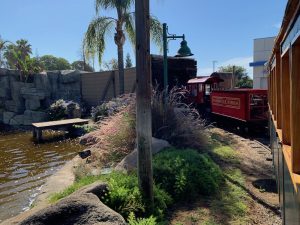 Next day we made our way to Turlock and the Days Inn where they had a ChargePoint Level 2 charger for our second overnight.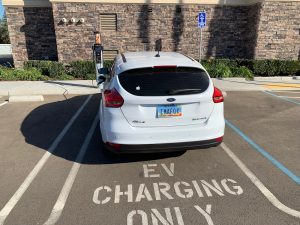 Monday we did our session in Turlock then made our way south.
Instead of using the same route we took the 5 down to Tejon Pass and ended up having a picnic dinner in Santa Clarita while charging. We did an overnight in Lancaster, then made our way home the next day reversing the route we took the first day.
Overall some things we learned:
– Plan for elevation. Massive uphill climbs zap the battery range. This can be minimized by keeping the speed around 65 mph, but for every 1000 feet in increased elevation, we lost about 10% battery range. Of course, for every 1000 feet in elevation decrease we regained some of that range, I'd say about 7%.
– Plan to stop more often then you think. Due to the changes in elevation that we hadn't considered we ended up stopping in both Barstow and Tehachapi for a couple of hours charging at the Level 2 stations. There are no Level 3 stations in these cities. We made the best of it by having our meals during these stops. Basically, the hills added these two unplanned for stops.
We changed our route home to avoid having to stop at any Level 2 chargers. It added 20 miles to the trip but saved three to four hours of charge time.
– Stop to smell the roses. We saw some amazing things while charging.
I will do this again. Sacrament, San Francisco, Reno, all are possible… Even Seattle…