One of the things we like to do every two weeks, depending on use, is clean the HVAC system air intake filters. These filters are located in the cabin and cycle the cabin air through our Dometic air handling units. As our Airstream has two rooftop HVAC appliances that act as both air cooling and a heat pump they are used year round so cleaning is a year round task. We believe that one should regularly clean these filters. Some units recommend cleaning AC filters once every thirty days, while others recommend to do it every other week, check with your appliance manual to confirm the cleaning schedule.
Our ceiling intake vents are easily cleaned by removing the four screws holding the decorative grate in place and then simply washing both the decorative grate and the plastic filter.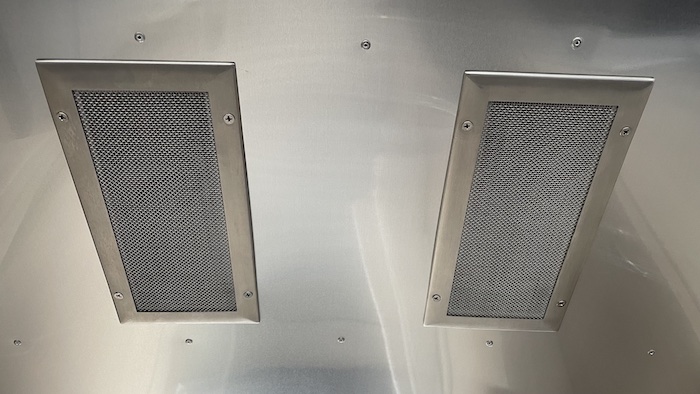 While the intake is open, it's a good idea to inspect the wiring, drain hoses, and general interior for anything that needs cleaning, adjustment, or service.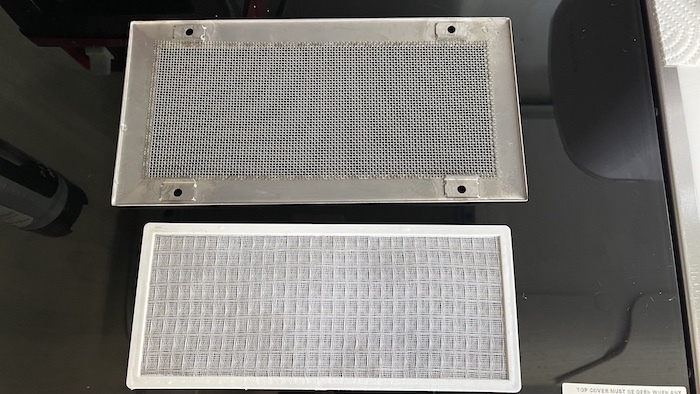 Cleaning is an easy task requiring only warm water and Dawn dish soap. There are very few things that can't be cleaned with Dawn – it's our go to cleaner of choice for all things inside the cabin and many things outside the cabin. The clean parts should be allowed to dry fully before reassembly and use of the HVAC system.
This process takes us about half an hour every two weeks. We have four inlet vents, two per roof top unit. Sixteen screws in total.
We are looking into something like replaceable RVAir filters, which would make the air inside the coach cleaner when sealed up and running the HVAC, but we tend to open the windows and door often and are concerned that these replaceable, non-washable, filters will gunk up faster and no longer be an economical alternative to the factory filters…but you never know, we could try them and like them…