Yes, yes I did…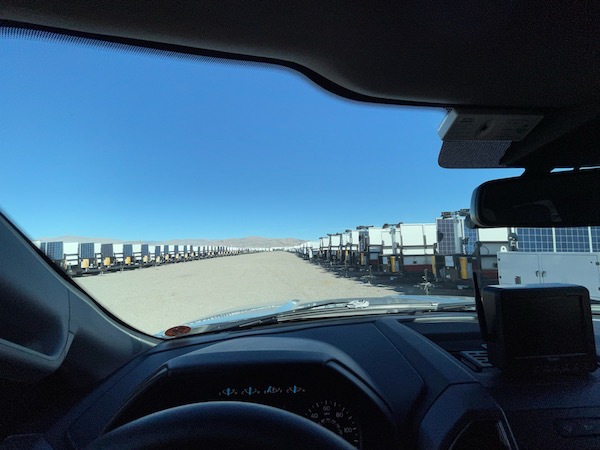 Back in November when we purchased our backhoe we got a tip on mobile power from the prior owners. They told us to check out BidIndustrial.Com as the site was auctioning off several thousand mobile solar generators built by DC Solar before DC Solar was proven to be a scam and forced into bankruptcy liquidation.
After some mental debate we settled on a Configuration C mobile solar generator on which to bid:
MSG (mobile solar generator) with Kubota GL11000 Lowboy II, 11KW diesel generator with super low hours! 96 GNB Flooded Classic Platinum tubular industrial batteries 468 AH capacity 48 volt, ECI 113 gallon fuel tank with locking cap and gauge, (10) Talesun Solar Module Type: TP660P-235 235 watt solar panels, (2) SMA Sunny Island model 6048-US-10 single phase battery inverters, MidNite Solar Classic 250 charge controller, MidNite Solar MNGP Classic controller display, MidNite Solar Photovoltaic Combiner breaker box, Homeline Load Center breaker box, (4) 110 volt plug ins, (2) Hubbell 220 volt output plugs, Carson 9,995 lb. GVW tandem axle trailer with electric brakes, pintle hitch.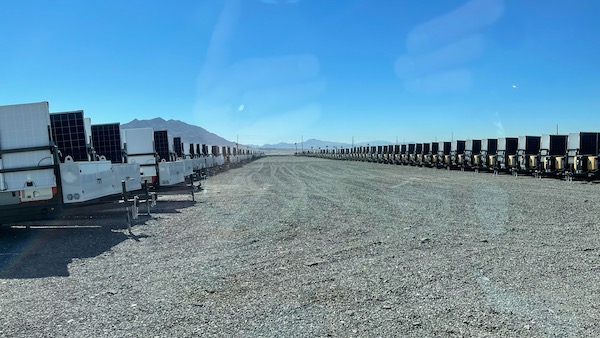 One January Day I went to the Las Vegas Motor Speedway and selected six candidates from the available pool – there were many – that were in top condition.
During the last minutes of the auction bids were flying back and forth extending the auction time beyond the end by fifteen minutes. When it was all said and done I was the proud owner of one of the six candidates I had reviewed.
After picking up the payment, a truck, and hitch conversion I headed back to the Speedway to collect my prize.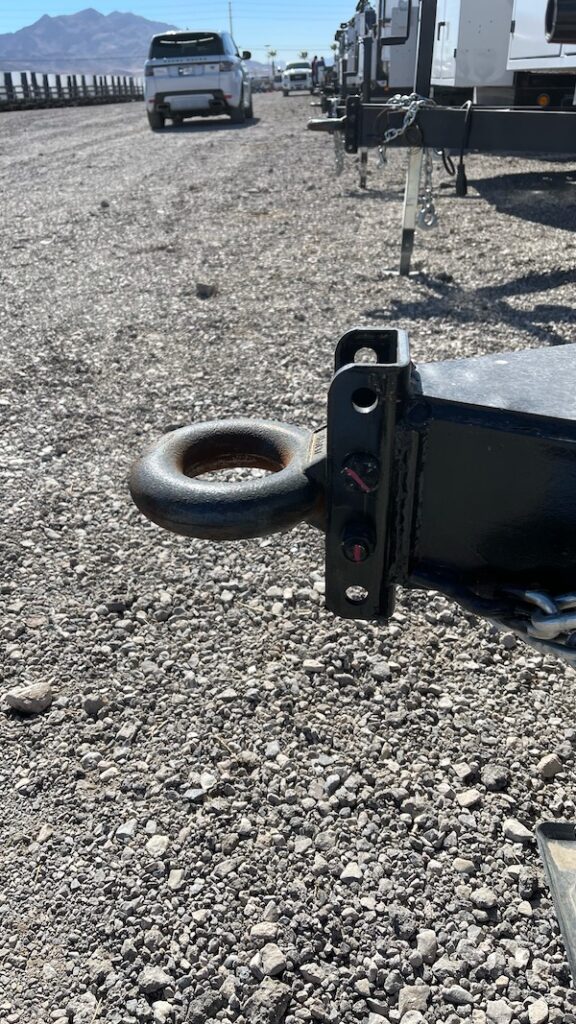 All of these MSGs have pintle hitches from the factory. My truck only has a ball hitch, and the rental truck also only has a ball hitch. So with my tool box and a conversion kit I hit the nuts. A little muscle and some leverage later and my new ball capture hitch was installed.
All that was left to do was to back the truck up to the unit, hitch up, and take off!
Except the jack wouldn't go up all the way…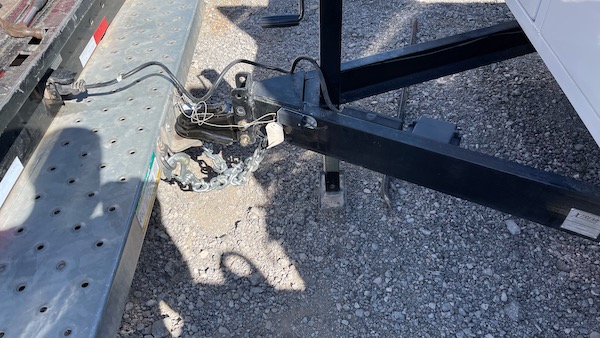 Welp, a broken foot would normally be a show stopper – but enter the cut off wheel.
A few minutes later and I'm on the road.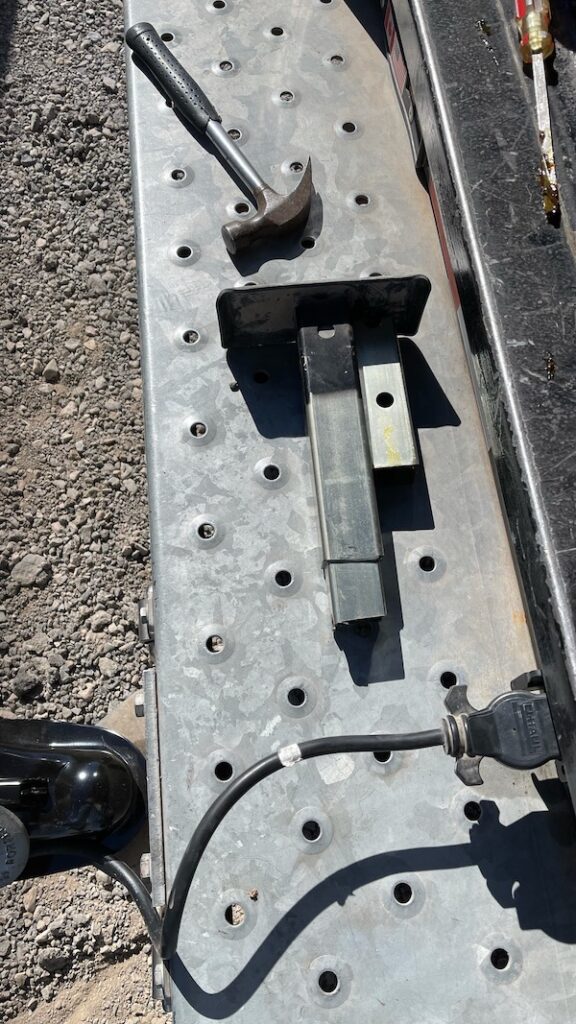 The next day we headed 520 miles north to our land with an overnight at Miller's Rest Stop.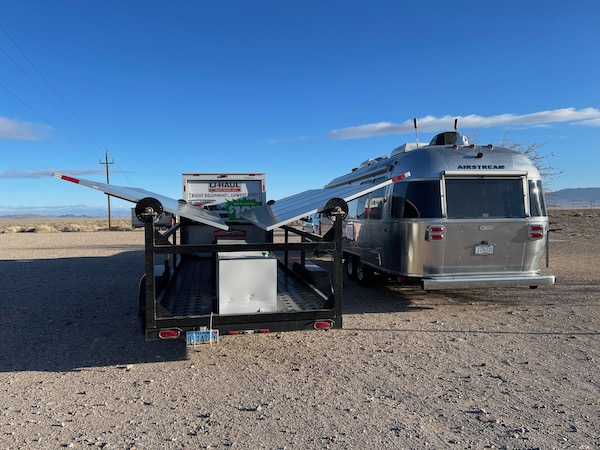 The MSG provided plenty of power for the night. We did top off the batteries with water so that they could charge in the sun the next day.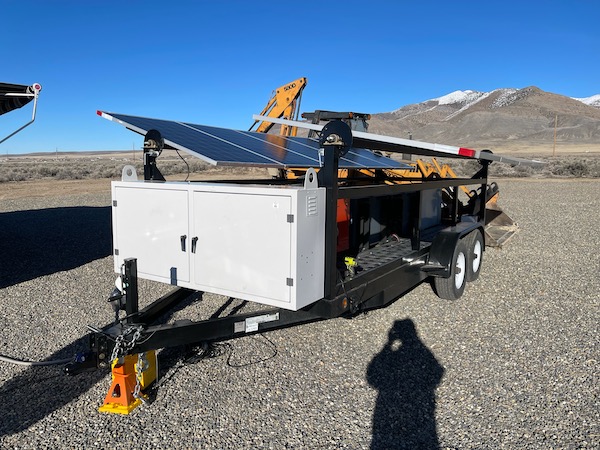 Once on our land we deployed the panels, hooked up the camper, and set about to servicing the generator that came with our MSG. We needed several things: diesel fuel, oil change, a new starter battery, and new fuel filters.
As well as lots of reading on how these things work.
Now the unit is happy as a clam.
Next we started digging into what's on this thing and this put a smile on our faces. Looking at the auction listing we expected 468 AH of batteries. In reality the unit had two 540 AH battery banks for a total of 1080 AH capacity! The auction listing also mentioned that the solar panels were 235 watts each for a total of 2350 watts solar collection. A quick look at the panes and they are 270 watts each for a total of 2700 watts solar collection.
We both thought it was a good deal as posted, but getting more battery and more solar collection is good news!
I've downloaded all the manuals and have been reading up on how all the parts work. Simple enough, but can do a lot more than just provide power from the sun.
I also priced out all the components and it would cost roughly $36,000 to build this unit today. I paid less than half of that.