Las Vegas, Nevada to Winnemucca, Nevada – 520 Miles
Back in August last year Sean and I purchased about ten acres up in northern Nevada. Our plan is to develop the land into our own little slice of paradise including guest cabins, recreational vehicle parking, a massive communal kitchen, and laundry facilities. We have already acquired a backhoe, broke ground, and have started the process of having a well installed for water, electricity dropped from the pole, and ideas for our septic system. It's all coming together…slowly.
That said, we decided that having our Electric Ford Focus down in Vegas where it makes short six mile round trips daily, while we are in town, didn't make sense anymore. Up here in Winnemucca, it's eleven miles to the nearest grocery store, twenty minutes from the shopping districts and there is a DC Fast Charge (DCFC) station in town. Given that we need to run into town to get essentials like food, water, fuel for the generators, fuel for the backhoe, it just made more sense to have the electric vehicle here.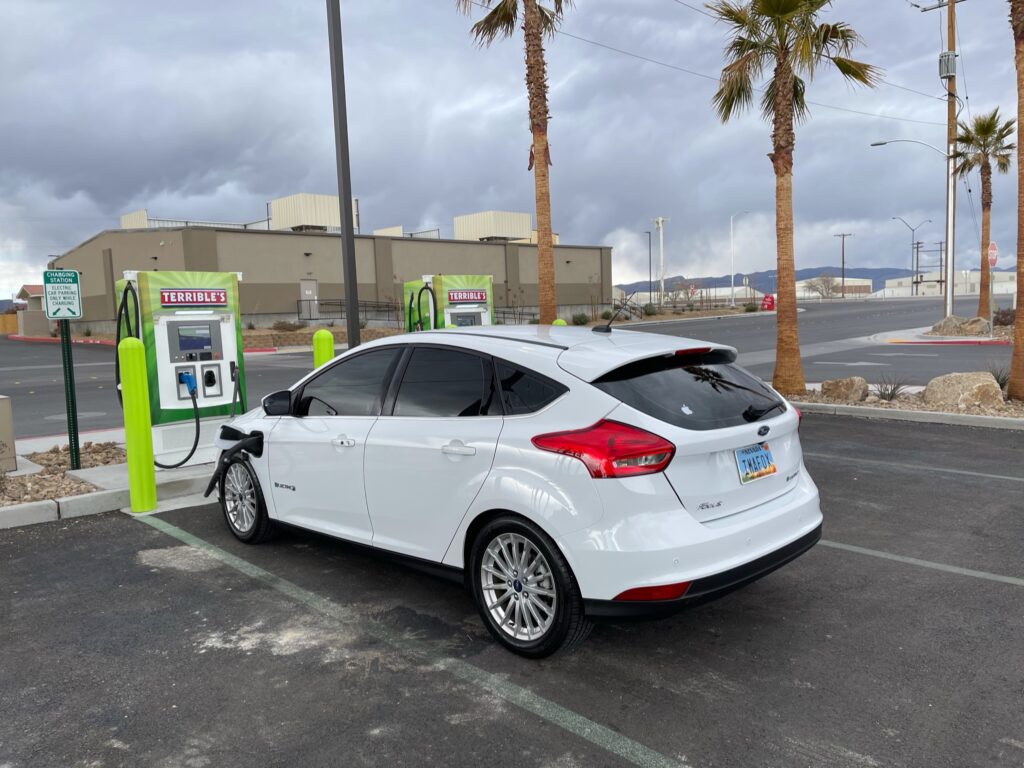 DCFC stations are located every fifty miles or so along the proposed route. The week before setting out on our adventure we drove out and back to the first charge station to make sure that it was working and to make sure that the range reported by our Ford Focus Electric was accurate. It was working and the range was accurate.
For the next three days I plotted routes to ensure that we could make the trip. Of course we had a Plan B in our back pocket the whole time. As we need a place to stay and, given the current global pandemic, hotels are right out, Sean was going to follow me in the F150 pulling our Airstream as well as our generators.
The proposed route isn't the shortest, it's about forty miles longer than running up Battle Mountain, but it has far more DCFC charge stations, so it was selected.
I left a few hours before Sean so that we could meet at our first overnight in Goldfield, Nevada – four DCFCs from Las Vegas (not that I would need them all, but it's nice to know they were there).
My first stop was in Indian Springs as I knew the DCFC worked, having tested it the week before. I only stayed here a few minutes to take a picture (see previous) and top off before heading to the Amargosa Valley Rest Area's DCFC – again mostly for the photo opportunity as the vehicle had enough charge to make it to Beatty.
Beatty is pretty cool as they have this massive candy shop called Eddie World, which I love!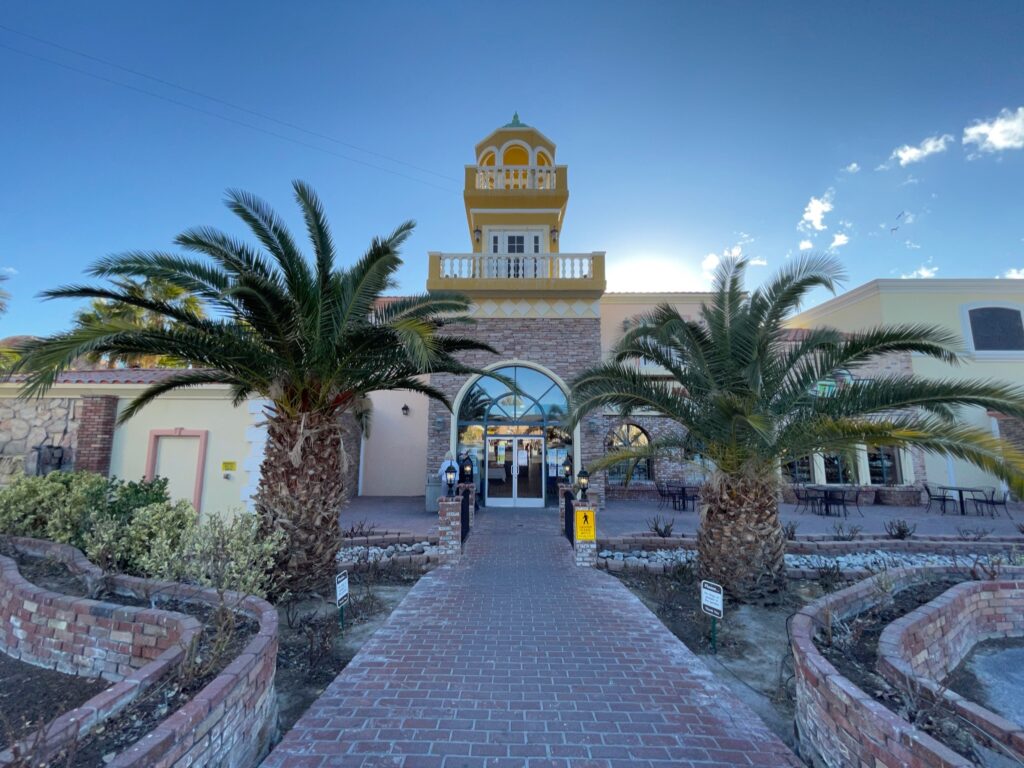 The next leg out the journey was one hundred miles. This was a test of the battery capacity as there were hills and wind… I did make it to the Goldfield Visitor Center and their DCFC safely with a few miles to spare.
The charging process took about forty-five minutes. As luck would have it, this was the exact time it took for Sean to catch up to me, and we both head to our overnight RV Park together.
After setting up camp, we plugged the car so that it would have the cabin temperature ready for for Saturday's drive.
Saturday was to be the big day, starting with an eighty mile drive to Tonopah and their DCFC station. This went off without a hitch. The next station, the Lunning Trading Post proved to be problematic as the station had no connectivity and with no connectivity, no ability to initiate a charge session.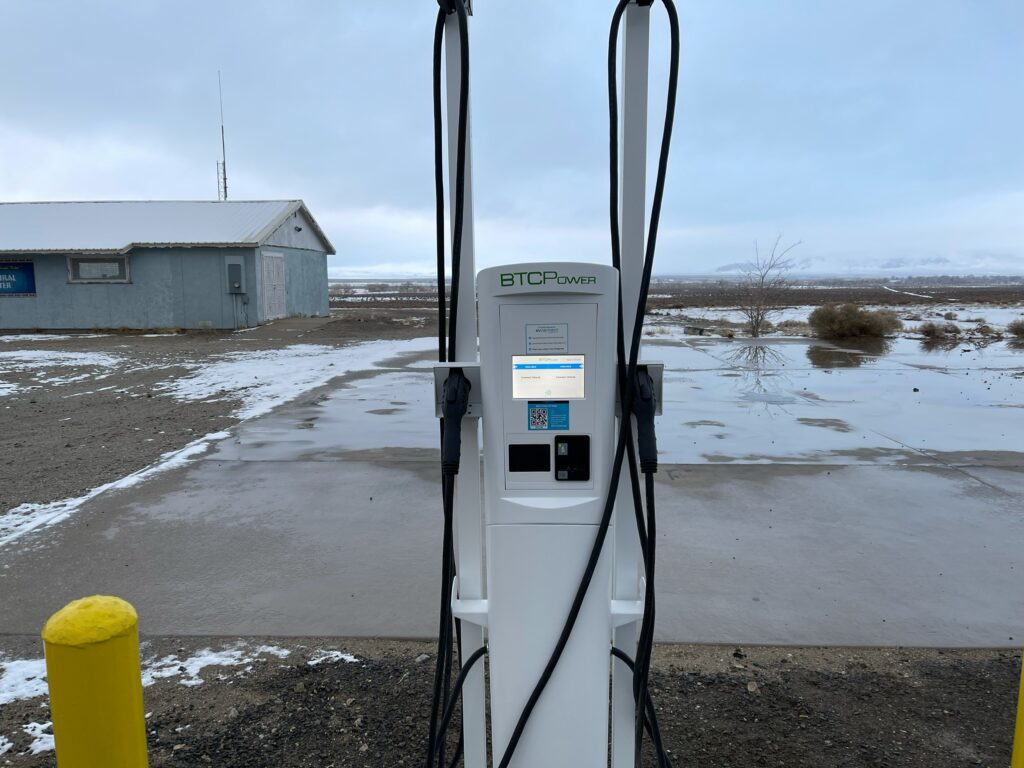 This proved problematic as I was short several miles to the next DCFC. Enter Plan B.
Generators.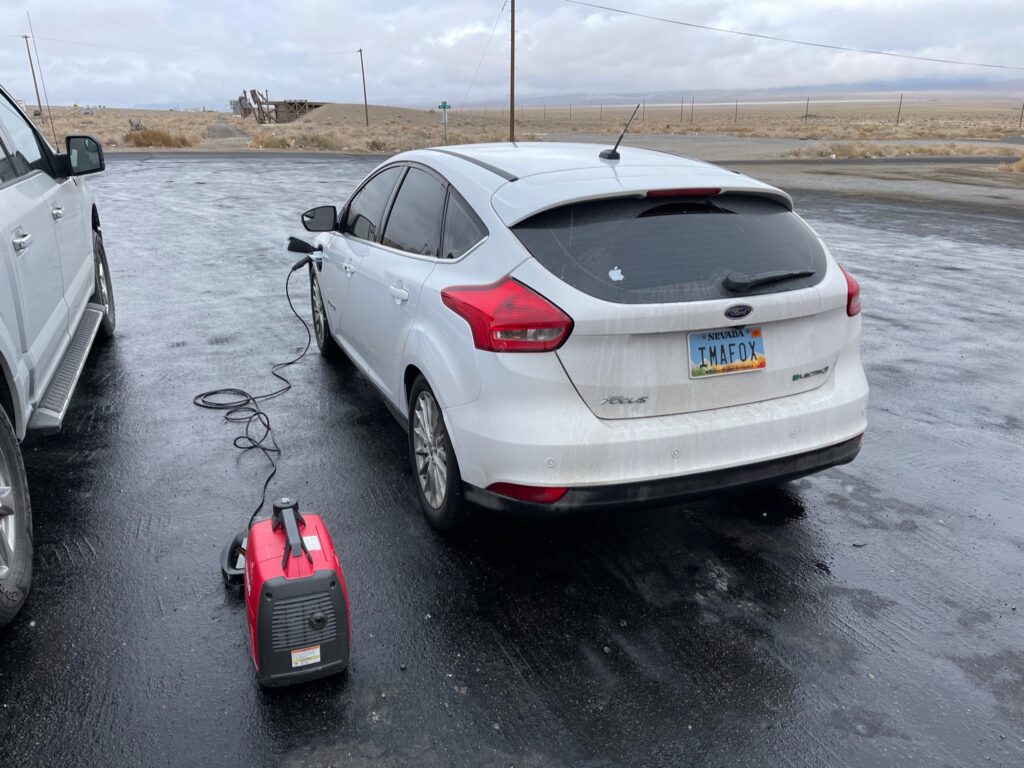 I only needed a few extra miles to make it to the next DCFC in Hawthorn, so we took lunch, caught up on social media, play games, and relaxed while our little car charged.
After a short time we were back on the road to Hawthrone.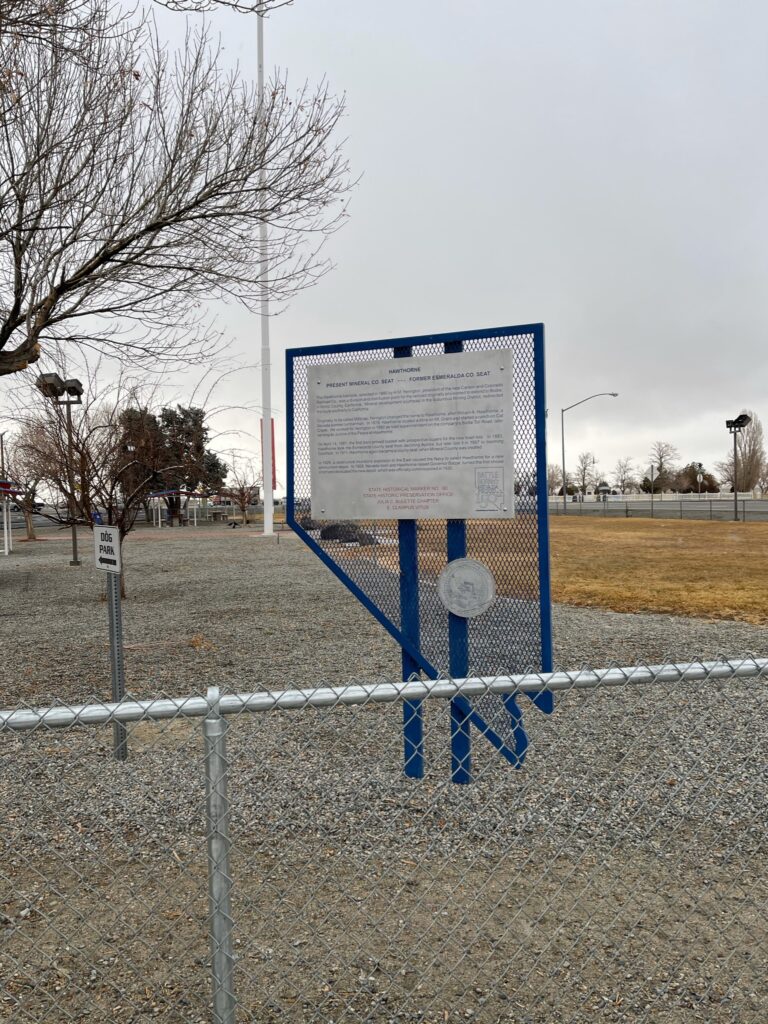 While I was charging Sean went food shopping, then we continued up to Fox Peak, our next DCFC along the route.
Just for shits and giggles Sean stopped the camper at Four Seasons Smoke Shop DCFC – another EV-Connect station. It too was down due to no network. Apparently Verizon was down in the area causing all the EV-Connect stations to not work.
While it would have been nice for these stations to be in working order, they aren't critical to our journey as there was plenty of charge on the battery to make it to Fox Peak.
After hooking up at Fox Peak, I joined Sean in the Airstream for dinner. By the time we were done with the dishes the Focus was ready for the next leg of the journey – Rye Patch Rest Area. There is no DCFC in Rye Patch, but that didn't matter. We were only fifty miles from our destination. We overnighted at the truck stop, employing the generator while we slept to get the car ready for the final leg of the trip the next morning.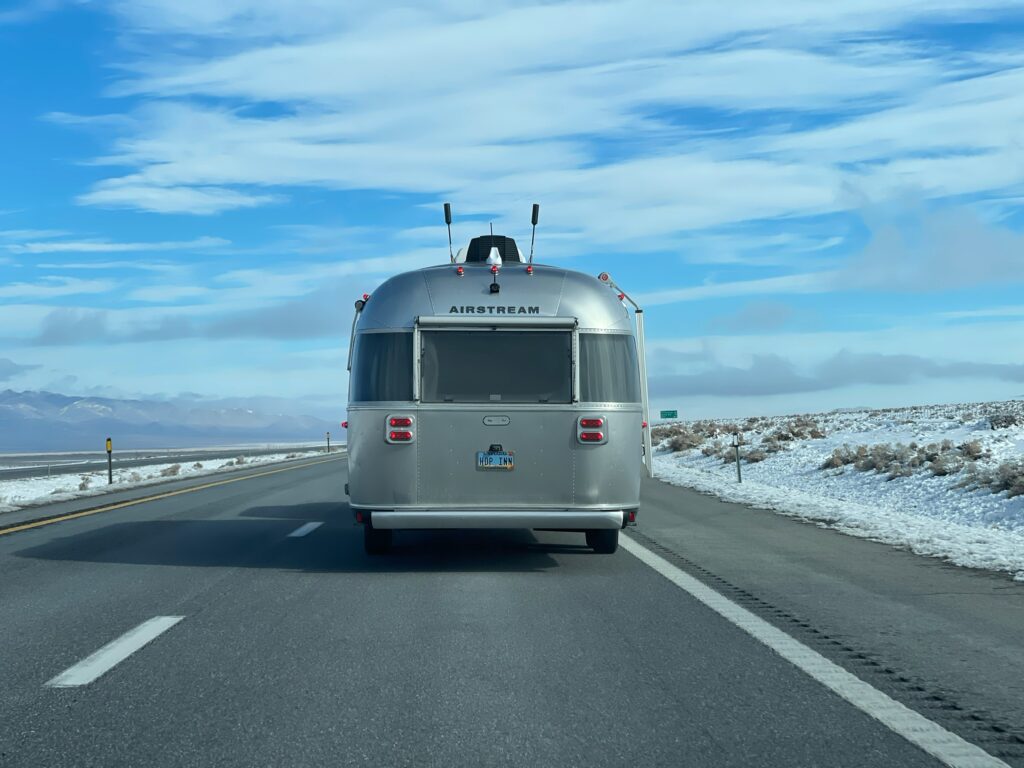 We made it to Winnemucca early Sunday, plugged the Focus into the RV Park's hook-ups and are done with the trip. We drive 520 miles and used 1.8 gallons of gasoline in the generator to make up for the inoperable DCFC in Lunning, Nevada.
Had that station been open, we would have arrived Saturday night.
Two years ago we made a trip to Sacramento, California in the very same Focus Electric with no issues as the charging infrastructure to the west was better at the time. Back then I wouldn't have even entertained the idea of a cross Nevada road trip.
I do hope that more and more DCFC stations open across all the highways and byways in the land. But until then, there is always Plan B…